Today we're going to tie our shoelaces a little tighter, throw our rucksacks over our shoulder and prepare our eyebrows for some serious raising. That's because you're going to join me on a journey where I'm about to show you all kinds of unbelievable places on our fascinating planet. Come with me and be amazed by what Mother Nature got up to!
Lake Kaindy
Our journey begins in Kazakhstan at Lake Kaindy, which was created in quite a peculiar way. In 1911 there was a massive landslide which was triggered by an earthquake. The canyon was sealed off by all of the rubble, creating a dam. The rainwater which collected there over the years created the Lake Kaindy we know today. The trunks of the killed-off spruce trees make this place quite mystical.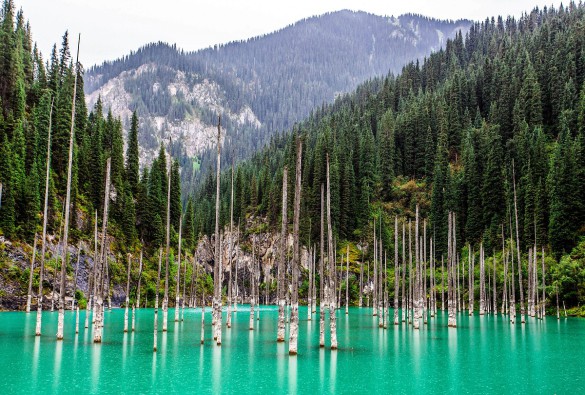 Huacachina
Imagine an oasis – like the ones from storybooks. In between broad sand dunes is a lake, fringed by green palm trees and people who have managed to make a life for themselves in a barren desert. Such a place actually exists – in Peru. If you want to venture out into the sand dunes you can even spend the night here in this oasis – you'll find hotels here!
The Dark Hedges
In Northern Ireland the trees growing on this mystical road look like they want to reach out and grab anyone who walks along it. They were planted in the 18th century by a family who lived there in Ballymoney, and today they enchant people from all over the world. The place is even so fascinating that Arya Stark from Game of Thrones rode along here!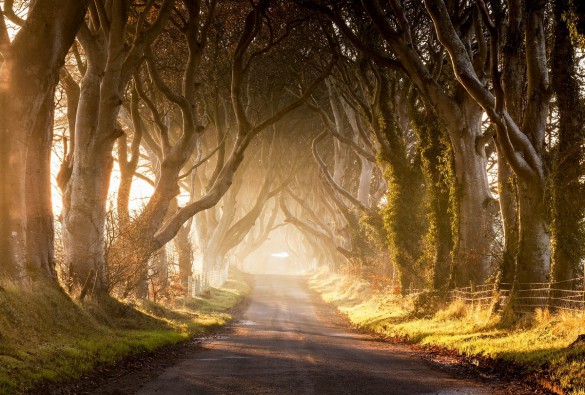 Door to Hell
Those of you who wonder through the desert in Turkmenistan will discover something on the horizon the likes of which you've probably never seen before. You'll see a crater before you that's actually on fire! The 'Door to Hell', or Darvaza Crater, wasn't created by chance. While people were searching for gas, the ground collapsed in on itself due to a cave beneath the surface that they hit whilst drilling. To stop the poisonous gas that was spewing out, they set the 70-metre-wide crater on fire – but it still hasn't gone out yet!
Dragon Trees
In Yemen, Mother Nature ended up creating something quite special. These strange plants, which look like trees to you and me, aren't actually trees at all, but belong to the same family as asparaguses! Uhuh. Why? Because it doesn't have a secondary growth in thickness. Right. Why? No clue – you'll have to be a botanist yourself to see any similarities to asparaguses at all. But I think it looks like a tree – and a beautiful one at that!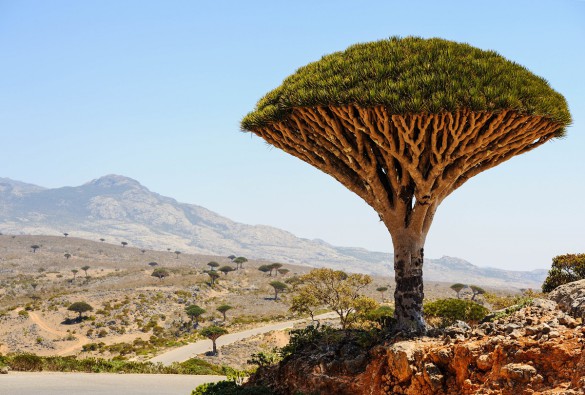 Hang Son Doong Cave
There are many unbelievable places – the largest cave in the world however is absolute madness. What researchers have discovered here in Vietnam can't be put into words, so just take a look for yourself here:
Fly Geyser
Oops, something's surely gone wrong here! What you see here in Nevada is no whim of nature, but a drill hole that wasn't properly sealed off after people were searching for geothermal energy sources here. Well – thanks guys! Because this geyser sure is breathtaking.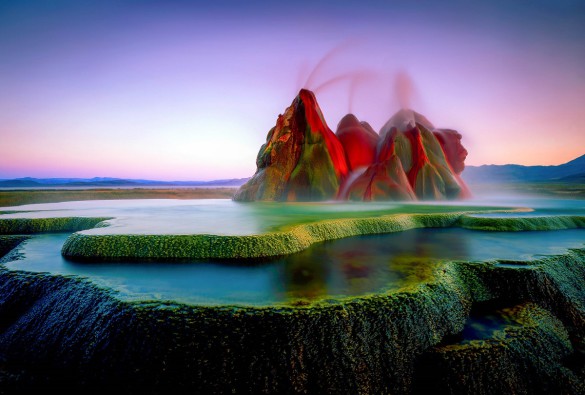 Thor's Well
As if by magic the Earth seems to be sucking the water in! Off the coast of Oregon a sink hole was created that seems to endlessly fight against the currents and waves. A fascinating but also dangerous spectacle – don't get to close…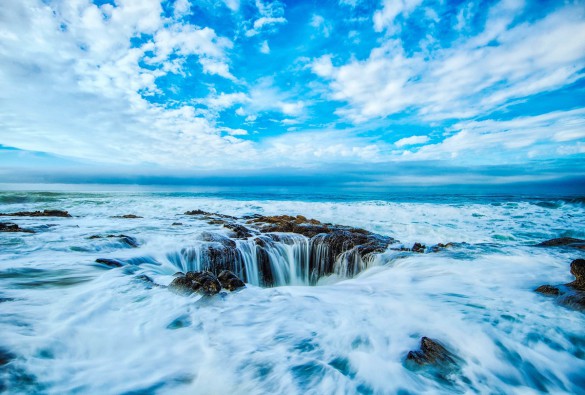 Dallol Volcano
Should you ever go to Ethiopia's volcanic landscapes, chances are you won't have a single nose hair left afterwards – that's because pure acid springs up from out of the ground, and the smell of sulphur is enough to make you keel over. Those of you who didn't skip chemistry classes at school know just how bad that stuff smells. Minerals were deposited on the surface here by the salt plains and groundwater and gases rise up, which ended up creating this unreal place.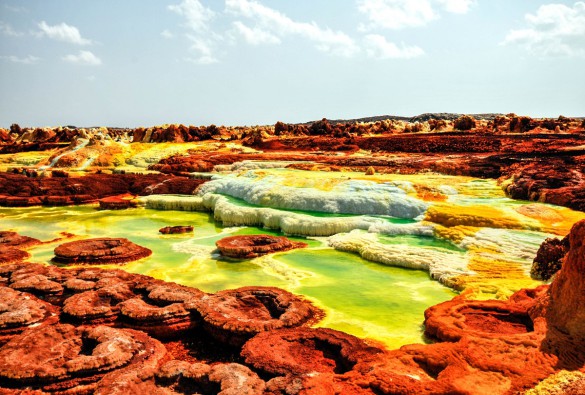 Those of you who want to go exploring the world will find all kinds of extraordinary places everywhere – sometimes you just have to go a bit further, look beyond the surface or sometimes just go another way, and soon you'll be exploring our wonderful planet. Have you been to a fascinating or spectacular place before that people have to see at least once?
If you like what you've seen on this page so far, why not check out our shiny new podcast. Holidayguru's Gurucast is our newest way to inspire and interact with you beautiful people. Here you can learn about new and exciting places, pick up some great tips on how to save on your travels and also listen to interviews with some of the world's most influential personalities. Happy listening! :)