With my nifty beach guide you'll discover new places where you can peacefully lie in the sun or swim in the turquoise seas without having to fight for space!
Where are the prettiest bays, and which beaches are the local favourites? I've taken a look around Majorca and ventured out far beyond the party central of Palma – as soon as you've left this tourist stronghold behind you, you'll realise that the beaches and narrow streets are a lot more peaceful and pristine. It's time to head out to the prettiest beaches of this Balearic island!
These are the prettiest beaches of Majorca
Es Trenc | Caló des Moro | Cala En Tugores | Cala Llombards | Portals Vells | Cala Figuera
Cala Pi del la Posada | Cala Torta | Cala Mesquida | Platja de Muro
Cala Pi | Font de Sa Cala | Cala Varques | Cala Sa Nau | Cala Agulla
Beaches in the south of Majorca
Just a little bit away from the rowdy holidaymakers looking to party and the sangria-sipping swimmers you'll find bays with wonderfully white beaches and crystal-clear waters.
Es Trenc
One of the most well-known beaches in the southern end of the island is definitely Es Trenc. You'll get a parking space for around 6€ per day. The beach provides a separate nudist area and you can rent loungers when needed. Since this section of beach stretches for over 6km, you're guaranteed enough space to lie down no matter what the season! With its fine white sand, impressive dune landscapes and bright, turquoise waters, Es Trenc is a real highlight. It'll be like relaxing in paradise, and if you ever get bored of sunbathing, you can always cool down in the clear waters.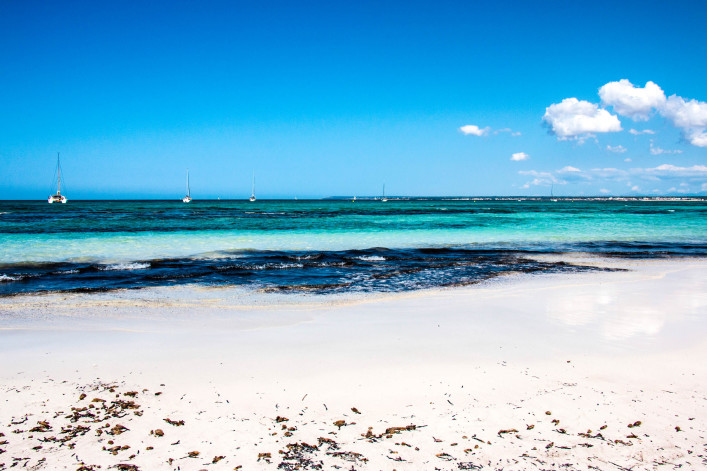 Caló des Moro
A unique natural beach that's surrounded by beautiful, rocky surroundings and primarily draws in locals from the south of Majorca. Caló des Moro is not exactly easy to reach and there are no restaurants or life guards on duty. However the clear water and the lovely location in the heart of the Majorcan cliffs totally make up for it!
Cala En Tugores
You'll be able to relax wonderfully on this 200-metre-long beach! The beach is somewhat remote, which means it's not visited as much in comparison to the others. Cala en Tugores lies basically untouched in front of an impressive backdrop. To enjoy the breathtaking views of the u-shaped bay, you'll have to go on quite the serious hike. From Colonia de Sant Jordi you'll pass idyllic villages such as Es Dolc or Es Carbo on your way to the beach, which is predominantly used by locals.
Cala Pi in the south-west of the island
The romantic bay in the south-west of Majorca is located direct next to the village of Cala Pi and looks almost like a fjord. The beach is embedded in the overgrown cliff faces and during high season it draws a lot of visitors who appreciate its Mediterranean flair.
Portals Vells
Just south of Magaluf there are four different bays that are located right next to each other. The so-called 'three fingered bay' invites for swimming, snorkelling or even jetskiing. In the neighbouring bay, Platja de Portals Vells is considered the largest and most family-friendly beach. It's a 3 kilometre journey up a very bumpy road to here from the next town across, Magaluf. One of the neighbouring bays houses the infamous beach of El Mago, which named after the film of the same name. If you want to get a spot here, then you'll have to get up particularly early, as by lunchtime this small bay will already be filled to the brim. If you like, you can grab a cocktail from the Playa El Mago beach bar. A small tip from me: be prepared, because this little space is also the most famous nudist beach on the island!
Cala Llombards
If you want to get away from mass tourism, you'll get your escape here at Cala Llombards. You'll be able to spend your days in the sun soaking up the atmospheric ambience, and you'll be in good hands with a drink from the local beach bar. Many locals wind up here too who all appreciate the clean waters, or don't want to spend the morning directly in the blazing sun. The small bay is surrounded by steep cliffs, which means this place serves as a little retreat for those looking for relaxation.
Beaches in the north of Majorca
Often under-appreciated, but still oh so beautiful: the north of the Balearic island captivates with its somewhat rawer charm and offers beaches that are for the most part completely natural. Discover the magic of the north!
Cala Pi de la Posada
Be careful not to get the names mixed up here: this one is a beach in the north, halfway to Cap de Formentor. Cala Pi is one of the most beautiful beaches on the island and enchants people with its awesome location, embedded in the bay of Pollença. Surrounded by pine groves that give plenty of shade, it's a fantastic place to relax and the white sands are very popular with tourists. That Caribbean flair is included too! ;)
Cala Figuera
You'll find this beach in one of the many small, but very beautiful bays in the north of the island. Again be sure not to get confused, as there's another place in the south called Cala Figuera too. ;) You'll be able to enjoy the panorama of the shallow waves making their way up the bay well away from the crowds that flock to Palma. You'll also be able to relax on the fine and clean sands there. Despite that things can still get a little busy towards midday, so be sure to plan ahead and get there in good time.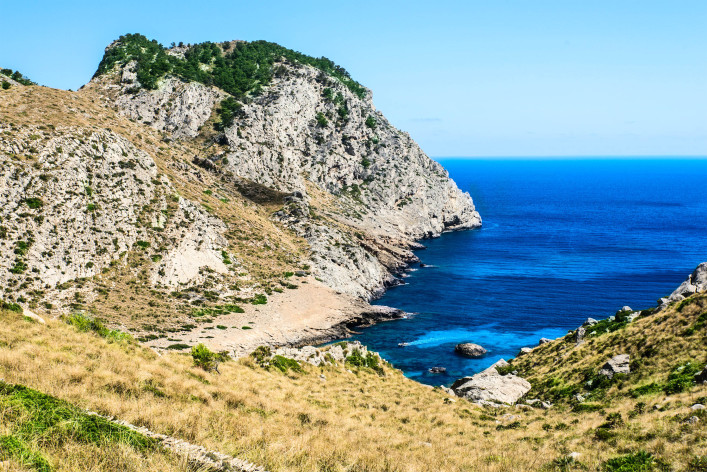 Cala Ratjada & co. – relaxation in north-east Majorca
Cala Torta
The perfect place to enjoy the nature is Cala Torta, a somewhat larger bay close to the town of Artà. The sand here is a little course and stony, but that doesn't spoil the experience of swimming here! Since the slope into the sea is quite steep it's not so popular with tourists, and you'll definitely be able to find place to lie down! I'd like to particularly emphasise the beautiful landscape with hills and trees, which is a great place for a little wander around! The somewhat smaller neighbouring bays of Cala Mitjana and Cala Estreta offer a nice cool-down and relaxation that's in harmony with nature. Depending on which direction the wind is blowing you'll have to keep an eye out for seaweed – other than that the waters are clear and clean all year round!
Cala Mesquida
Visit the north-eastern bay of Mallorca! As part of a nature reserve the Cala Mesquida provides a particularly beautiful location. On one side is the turquoise blue waters, on the other the far-reaching dune landscapes. There are even free parking spaces, which you'll be able to reach by following the road from Artà towards Capdepera.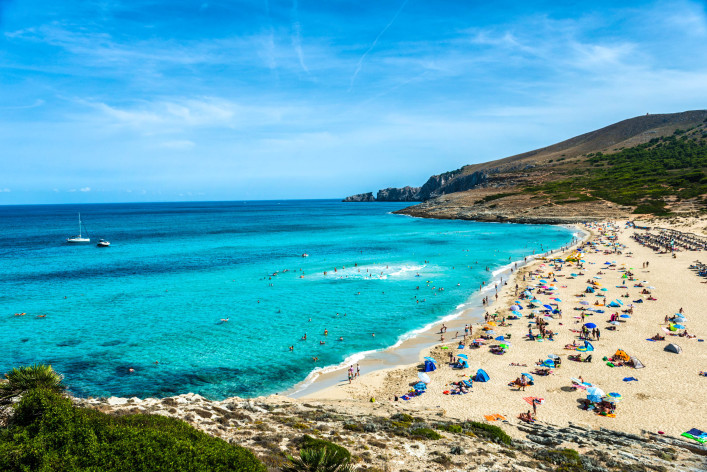 Platja de Muro
A paradise for sports lovers! Sailing, banana boats, diving, volleyball, surfing and much more are all awaiting you at Platja de Muro! This beach is more for the active ones amongst us and thanks to shallow, clear waters it's great for kids too. Of course after a heated match of volleyball you'll be able to relax under the pine trees or go for a walk among the dunes. If you're going to spend the whole day here, you'll be able to make your rounds along the promenade with its many bars and restaurants. When I was there I felt like I was in the Maldives – the only thing that was missing were the palm trees!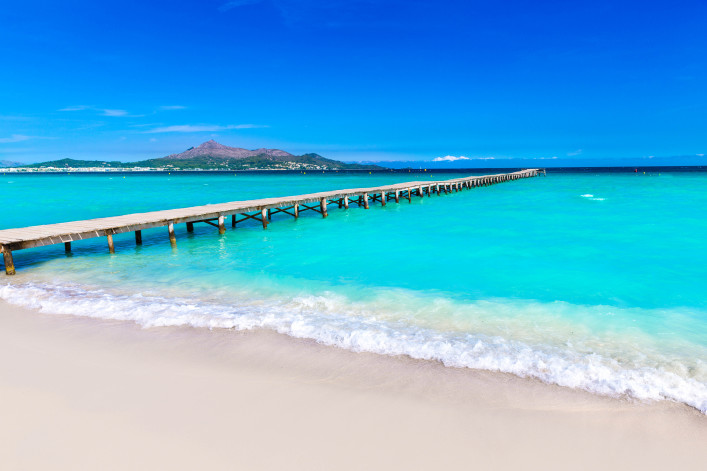 Font de Sa Cala
Many say that the bay in Capdepera is one of the prettiest ones in the region, and in my opinion the looked-after beach leaves nothing to be desired. Indeed there are a lot of hotels nearby, so expect to see plenty of tourists too. Boat rental and surfing schools give the beach some variety and the beach will win you over with its cleanliness and clear water. Finding a parking space can be quite difficult, but from Cala Ratjada you can take a small tourist train up to the beach.
Cala Agulla
The prettiest beach in Cala Ratjada? Without question – the shining blue waters and the bright white sands deserve to be on a postcard! And they are! ;) There's plenty to keep you busy the whole day long such as surfing, banana boats which bring plenty of visitors here, although the bays around Cala Agulla are nowhere near as busy as those at Palma. The range of sports on offer is massive and there's everything from sunbeds and clean facilities to cool beach bars.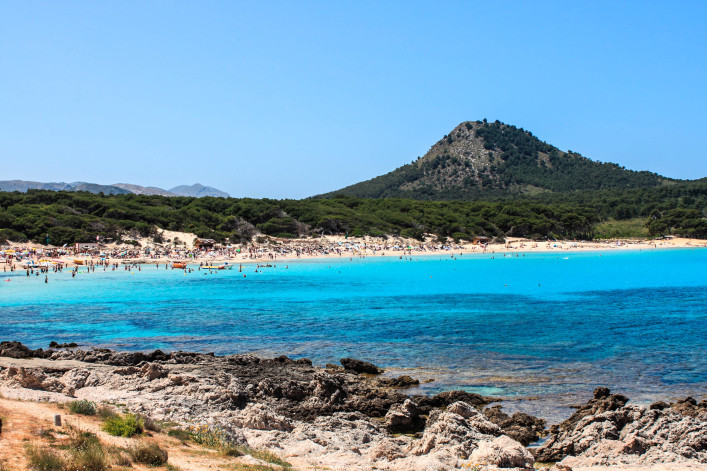 Beaches on Majorca's east coast
Cala Sa Nau
This small bay is a real insiders' tip, as it's the locals' favourite. Surrounded by forests, cliffs and caves, this beach is located in the west of the island and is known for its legendary beach parties. Once you've found the complicated route to this trendy area, you'll be able to party in Chiringuito, relax on the stylish bamboo loungers or go for a walk through the forests.
Cala Varques
This picturesque beach is heavenly and it's right in the middle of Majorca's east coast! Cala Varques is quite far out and it's therefore hard to reach by car. If you want to relax on this gorgeous sandy beach, you'll have to travel by boat or hike the last part of the journey. It's worth it though! Once you've arrived at your goal you won't just be greeted by a heavenly white beach and a sea that looks like something from the Caribbean, but also idyllic nature. The bay is surrounded by cliffs, rocks and pine forests, and it's almost untouched outside of high season.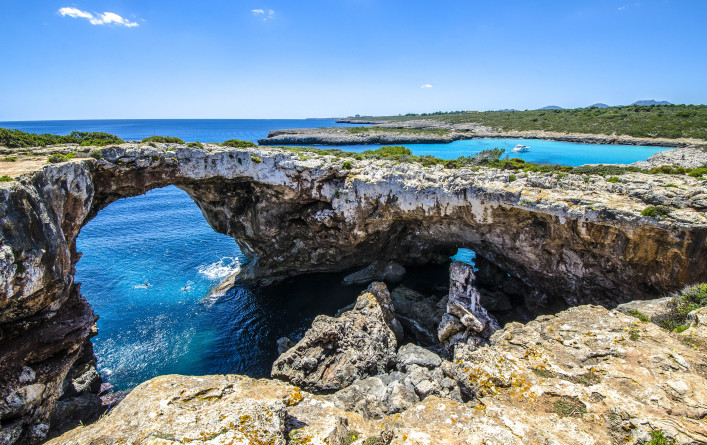 Visit Majorca's dream beaches!
So, have you got that wanderlust yet? It's no surprise that Majorca is definitely one of our most popular destinations. Travel away from the parties of Palma and you'll find real oases of relaxation right in the middle of Spain's beautiful nature. Majorca has more to offer than a typical night out – see these breathtaking views, crystal-clear waters and gorgeous beaches for yourself! Maybe you're planning your next holiday there already! ;)
Holidays in Majorca
More from the Travel Magazine:
If you like what you've seen on this page so far, why not check out our shiny new podcast. Holidayguru's Gurucast is our newest way to inspire and interact with you beautiful people. Here you can learn about new and exciting places, pick up some great tips on how to save on your travels and also listen to interviews with some of the world's most influential personalities. Happy listening! :)