Be honest – you've all wondered where all those excited letters of dreams, wishes and Christmas spirit go once you drop them in the local postbox… right!? I used to ask myself the same until I decided to investigate. And I'm so glad I did! :) Little ones and "grown ups" alike… pay attention! ;)
It all started over 100 hundred years ago with one of those travellers who was wandering around the northern part of Europe, in Scandinavia to be more precise.. and out of luck he discovered a secret that would soon spread very quickly. The discovery of the house where Santa lives and works during the year! As true as it could be, the place is now known as Korvatunturi Hill, in Lapland. But Father Christmas didn't like this discovery very much and because he is so busy working he couldn't be distracted all the time by visits and wanted to preserve his privacy so he came up with a great idea so everyone from around the world, especially kids, could come and visit him whenever they wanted to and enjoy the true Christmas spirit with the whole family in a magical and unique place. Now it has been more than 50 years from that, and Santa still goes to Lapland, near the North Pole every year to meet his visitors from all around, in his little village near Rovaniemi.
Rovaniemi | Santa's Little Village in Lapland
And because Father Christmas is always very busy preparing and planing everything for Christmas day and he dosen't like that his visitors get bored, he created a place full of joy and magic where no one, children or adults, could ever get bored, you could do some sledging, visit the Christmas Fair, go ice skating or enjoy a real reindeer safari, and even meet the Mr Santa Claus himself!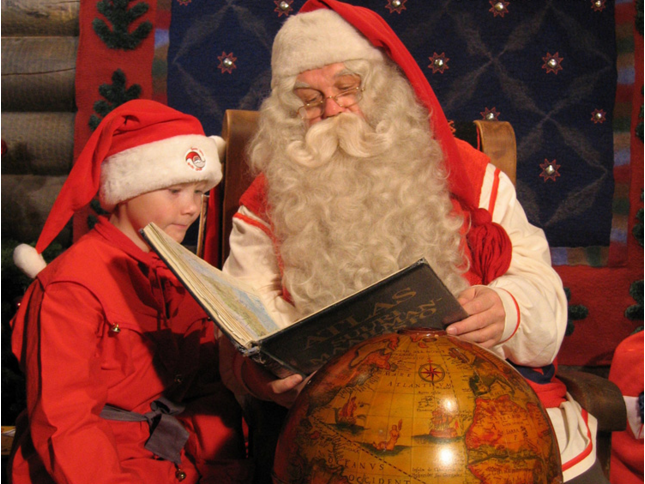 And regarding the accommodation, you would have at your disposition a wide range of options, from hotels to charming cottages, that would make your feel the Christmas Spirit and, enjoying the views of this lovely region from the comfort of your house, where you could have a nice hot chocolate to warm you up on those cold winter nights. For example in the Santa Claus Holiday Village with breakfast included for just 65€ per person, booking a minimum of two people that you can get at Trivago.ie. This accomodation is located just 8 km away from Rovaniemi and the airport isn't very far away either.
Click here to know a bit more about Santa's Hotel
It's without a doubt the ultimate Christmas experience, Santa's little Village in Lapland, in the North Pole, has become in the early 2000 the most visited Christmas resort in Scandinavia. It has gotten so popular that recently that every other year it has doubled it's number of visitor. And even the international visitors have quadrupled in the last couple on years, and today this little village has half a million visitors every year.
If you like what you've seen on this page so far, why not check out our shiny new podcast. Holidayguru's Gurucast is our newest way to inspire and interact with you beautiful people. Here you can learn about new and exciting places, pick up some great tips on how to save on your travels and also listen to interviews with some of the world's most influential personalities. Happy listening! :)