You're sitting at a café and watching the crowds behind the windows while you sip your latte macchiato. Suddenly you feel something brushing affectionately at your legs, so you look down and see a purring ball of fur waiting for you to pet it. After all you're not just sitting in any café – no, you're in a cat café! The trend that originated in Japan has quickly spread all over the world. I've set out on a search to find cat cafés around the world. Meow!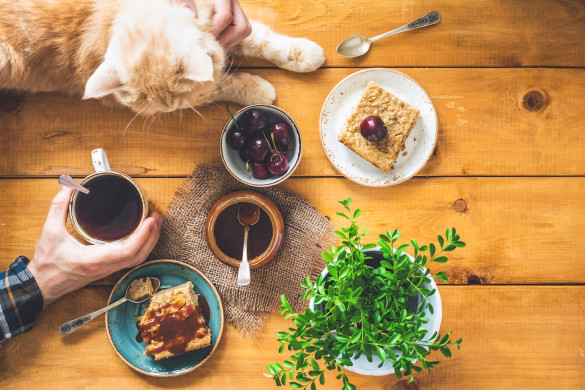 Japan – Hello Kitty in Neko Café
The concept of cat cafés comes from Japan, since people here rarely have time fir their own pets due to long working hours. Animal loving Asian people had an idea to open cafés where people can pet, play and relax with cats when they find the time, since pets are good for the soul and help relieve stress. The concept was a huge success and spread very quickly. You have to pay for entry in most cat cafés in Japan. The price varies depending on how much time you want to spend at the so-called Neko Café. You should definitely adhere to the strict rules during your visit, such as the rule forbidding guests to disturb sleeping cats. If you're on the move in the Japanese capital of Tokio for example, you can check out the following cat cafés:
Austria – Mozart and Miau
Ok, I admit – Tokio isn't exactly around the corner. It's a good thing that this trend also made it to Europe. You can exchange some cuddles while sipping a melange coffee in Austria, or Vienna to be more exact. In Café Neko, as the first cat café in Austria is called, there's a total of five cats roaming about. From playful to cuddly, everyone will find a suitable companion here. If you're exploring the enchanting city of Vienna, you should definitely pay Thomas, Kurumi and friends a visit!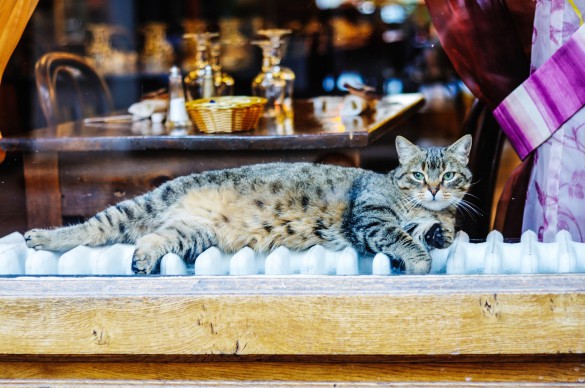 Czech Republic – first Charles' Bridge, then a Cat Café in Prague
If you're a cat lover touring the Czech capital of Prague, you should make a small detour into the artist quarter of Karlin after a long day of sightseeing around the Prague Castle . You'll find the Kavarna Kocici here, a modern cat café with seats spread across two floors. The coffee is reasonably priced and the home made cakes taste delicious. Apart from the delicacies, the drinks menu also contains a bit of information about the cats you can spot around the café. But don't be surprised if one or another kitty jumps onto your table – that's just a part of cat cafés.
Netherlands – Beautiful canals and curious kittens
You happen to be roaming Amsterdam and looking for a cute café where you can relax and reminisce about the impressions from your sightseeing tour? You should look for Kattencafe Kopjes. The stylish café, established with the help of a crowdfunding campaign by its owner Lenny, is home to a total of 8 cats and has only 20 seats. So, if you want to cuddle the four-legged friends, you should definitely book a table. After your stay, you can buy some great souvenirs in the adjacent shop to remind you of your visit, such as cute tote bags and T-shirts.
France – Chat Noir in Paris
The 12 cats living at the Les Cafes des Chats in 3rd Arrondissement in the French capital of Paris all come from an animal shelter and have found their new home with the café owner, Margaux. Besides a selection of teas and juices, you'll also be able to get various home-made organic meals and desserts that will make the hearts of not just cat lovers beat faster. Reservations are recommended.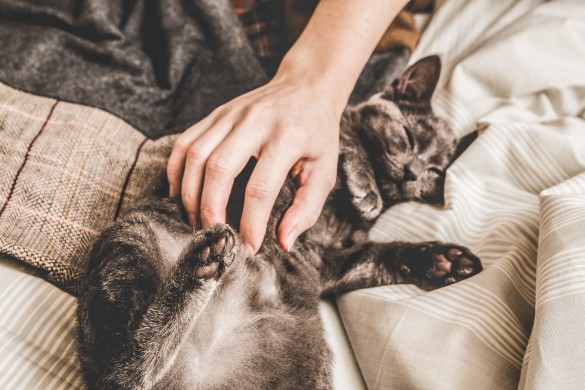 UK – Mind the Cat!
Cat lovers will be able to enjoy the special cafés in every European capital. So it's no wonder, that you can find a Cat Café in London as well. Lady Dinah's Cat Emporium is London's first cat café. Apart from affectionate pets, there's also a hole load of art by various artists to marvel at here. The 12 cats, that even have their own Twitter account, couldn't be more different: Wookie, who loves naps, Lizzie, who loves to train on the running wheel, or Alice, who loves to lick the guests' noses. As you can already see: a visit to this cat café will definitely be fun.
Germany – poets, thinkers and cat paradise
I have also found some cat cafés in Germany that are just waiting for your visit. Café Katzentempel in Munich was the first cat café in Germany. Today you can enjoy vegan meals in a relaxed atmosphere here. The owners, Thomas and Kathrin, place great value on the welfare of the velvety paws of the kitties and so this cat temple, just like most cat cafés in Germany, contains a quiet room where the animals can kick back and relax. If you want to visit the six cats with Gizmo at the lead, you should reserve a seat over the phone, as the demand is huge. How about admiring the Bavarian landscape to make the waiting time fly?
It didn't take long for Berlin to follow suit. The Pee Pees Cat Café opened in the city district of Neuköln in 2013. Just like in all cat cafés around the world, a true cat overload awaits you here. In addition, the owner, Andrea, will spoil you with cakes of her own making. What more could you possibly need? Ok well, perhaps a few Berlin tips for your time outside of the cat café.
You'll stumble upon the Stubentiger Café in Hannover. You can enjoy delicious vegan and vegetarian meals every day here and let yourself be ensnared by the cute charm of five cats. I don't know how about you but looking at the pictures, Hiro stole my heart right away!
You'll bump into two more cat cafés in western Germany: Café Schnurrke in Cologne and Milou in beautiful Aachen on the border with Netherlands. Five affectionate kitties await you in Café Schnurrke, as well as diverse coffee and tea specialties and "everything the cats love" according to the owner. Off you go! The pussycats from Milou in Aachen all come from an animal shelter and thanks to the owner, Miriam, they found a new home and purpose: to make people happy.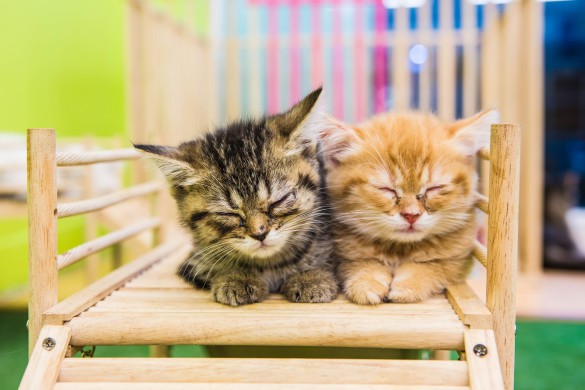 USA – velvet paws conquer the Big Apple
There really are cat cafés around the world! After a tour of Japan and Europe and a flight over the wide ocean, we arrive in New York City. Many people in this noisy and chaotic city that never sleeps look for the company of pets and come to the Koneko Cat Café. This café of a somewhat special kind has adopted the following motto: "Designed for cats, but people are welcome too". What's special about it: Many cats at Koneko Café come from animal shelters and are looking for a new home. It doesn't matter if you want to adopt a fur-ball with velvety paws or simply spend some time in the company of the cats: All cat lovers are welcome at the cat café in New York!
Our tour of cat cafés around the world ends here. What do you think about this Japanese trend? Is it a place for you or will you avoid them? I look forward to reading about your opinions and experiences!
If you like what you've seen on this page so far, why not check out our shiny new podcast. Holidayguru's Gurucast is our newest way to inspire and interact with you beautiful people. Here you can learn about new and exciting places, pick up some great tips on how to save on your travels and also listen to interviews with some of the world's most influential personalities. Happy listening! :)