Long, endless beaches, turquoise waters and pure seclusion – that's probably the best way I could describe the Maldives! If you're lucky enough to spend a holiday in this dream destination, then you'll know what I'm talking about!
The Per Aquum Huvafen Fushi Resort is easily one of the most beautiful resorts in the Maldives – a stay here is guaranteed to be out-of-this-world. Private bungalows with a view of the Indian Ocean and romantic hours just the two of you… This is the place to take that time-out that you definitely deserve! I'm going to take a closer look at this dream resort and reveal just how much a stay here will cost!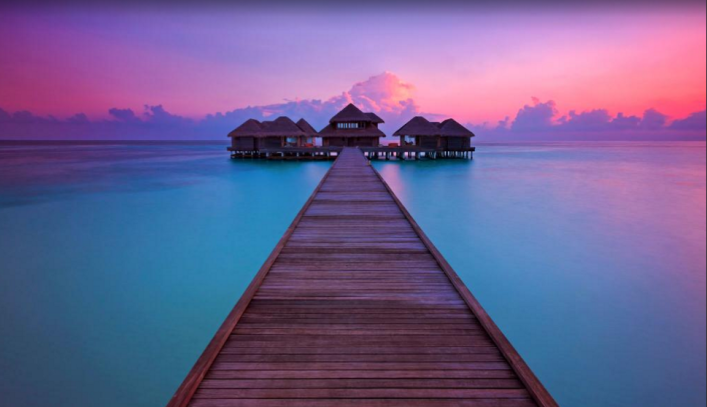 Per Aquum Huvafen Fushi – the dream resort in the Maldives
Okay, I admit – there are quite a few impressive resorts in the Maldives that offer heavenly views. But the Per Aquum Huvafen Fushi, located in the Kaafu Atoll, will really knock your socks off. With everything from huge bungalows with luxurious interiors to the pool that really is the stuff of dream (it even lights up in different colours at night!), the Per Aquum is simply nothing else but a first-class resort. There are a total of 43 bungalows on the private island and there are also amenities such as an underwater spa and a restaurant located directly above the ocean.
Dinner by the infinity pool
One of the absolute highlights of the resort is the infinity pool with LED lights, which offers a magical view at night. The numerous coloured lights almost make it look as if you're looking at a starry night sky. But but pool isn't just there for swimming – guests can even enjoy a romantic dinner here. According to your wishes a table is set up in the middle of the pool and you'll be served a personal evening meal. Could there be anything more romantic than a sea of lights with a view of the ocean? I think not!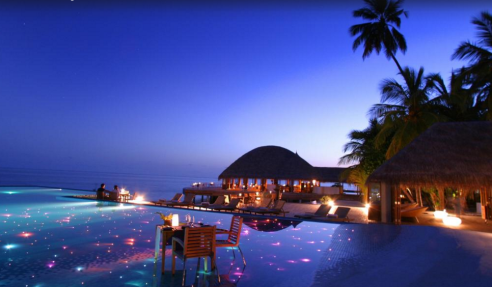 Private bungalows with spectacular views
The Per Aquum Huvafen Fushi Resort offers a total of seven different bungalow categories which couldn't be more luxurious. The 'cheapest' accommodation is the Beach Bungalow, for which you'll be paying around €1,000 a night. The standard bungalow is 125m² and will win you over with its interiors crafted from wood. As well as a private pool you'll have direct access to the beach and a breathtaking view of the sea. There's even a private bar so you can indulge in a few drinks. If one pool isn't enough, then you can book the Deluxe Beach Bungalow that boasts two pool! The 160m² accommodation offers plenty of space for 3 people.
Would you rather stay somewhere directly above the sea? No problem – just book the Ocean Bungalow with its breathtaking views. Indulge in a spot of sunbathing on the terrace complete with an infinity pool, or relax in the enormous Jacuzzi – the Ocean Bungalow leaves absolutely nothing to be desired! Especially cool is the glass insert in the floor where you can sneak a peek at the marine life below. Of course such luxury comes with a hefty price tag – one night here costs roughly €1,900. The bungalow can sleep up to three people. The two-bedroom Ocean Pavilion is even more spacious – there's room for 4 adults and 2 children. The accommodation is especially recommended for a family holiday. But if you want to rent this 330m², you'll have to reach deep into your wallets. The price for one night? €4,500! Still need more room? Then book the two-bedroom Beach Pavilion, as there's a total area of 800m². You'll be catered for around the clock, as there'll even be a private butler on stand-by to answer your every call. This bungalow category fetches a hefty €5,400 a night.
Restaurants & lounges
The Per Aquum Huvafen Fushi also indulges you in a culinary sense too. While you'll be served Mediterranean cuisine in the over-water restaurant Salt, you'll be able to help yourself to lighter delicacies for breakfast or brunch over at Celsius. Fans of Italian cuisine will get their money's worth at Fogliani, because there's everything here from pizza to antipasti. If you just want to relax with a few drinks, then pay Raw a visit. You'll be sitting directly by the water and you'll be able to watch the sun setting over the Indian Ocean. Exquisite wines are available at the Vinum underwater restaurant – there's a selection of over 6,000 different wines waiting for you here! Rather chill at a beach bar? Then make your way to Umbar, where you'll be able to go for swim in the pool and slurp on a few cocktails while you're at it. It doesn't get much better than this!
More from the Travel Magazine:
If you like what you've seen on this page so far, why not check out our shiny new podcast. Holidayguru's Gurucast is our newest way to inspire and interact with you beautiful people. Here you can learn about new and exciting places, pick up some great tips on how to save on your travels and also listen to interviews with some of the world's most influential personalities. Happy listening! :)