It doesn't always have to be Australia or California. Many of the coolest surfing spots are actually found in Europe. Learn more about the Portuguese waves, the 'Hawaii of Europe' and how the Irish defy the cold weather!
Want to spend the perfect summer by the coast? Looking for the best waves in Europe? Then you're in luck – I'm about to show you which countries are best for surfing and what the popular European hotspots have to offer. It doesn't matter if you're a beginner or professional – you'll find the coolest and unusual places here!
The surfing hotspots of Europe
Portugal | Denmark | Italy | Spain | Netherlands | Ireland | France
Portugal
The Portuguese coast is full of locations that are perfect for surfing and kitesurfing. The Peniche Peninsula and the nearby village of Ericeira are particularly popular. You'll find everything here that a surfer could ever need, above all high waves that bring joy to both beginners and advanced surfers too. While the Periche is also known for its charm, wine cellars and delicious seafood that are enough to enchant anyone, Ericeira also has a few extra aces up its sleeve apart from its perfect surfing conditions. You'll definitely love this small village with its many cute cafés, restaurants and a whole host of bars. Ericeira is just 30km from Lisbon too, so it might be worth going for a little day trip there, don't you think? ;)
A real highlight for very experienced wave rides is definitely the small, inconspicuous fishing village of Nazaré. At the Praia do Norte you'll be able to admire the tallest waves in the world which have already smashed records in the past. However only a few people dare to hit the waters considering the swell – just take a look for yourself and you'll see what I mean!
Video: Pedro Miranda
Accommodation in Ericeira
Denmark
Visit the little village of Klitmøller on the Danish coast! Things can get a little cold here considering the harsh winds that prevail in Northern Denmark, but that's exactly why surfers call this place 'Cold Hawaii' – the waves here are unbeatable! Just pack a thicker wetsuit and some warm socks and you'll be absolutely fine.
In the meantime, Klitmøller has managed to obtain somewhat of a cult status thanks to events such as the Soulfiles Festival which brings a bit of that Caribbean flair.
Italy
Not necessarily the first country that comes to mind when we talk about surfing, but it's definitely a great alternative to those far away surf spots in California or Australia. Popular regions are the Adriatic Coast, as well as beautiful Sicily and Sardinia. Kitesurfers in particular will get their money's worth here – you can do it even if the waves are calm! You can get the best waves in Sicily during autumn, as they can reach up to 3 metres. You'll also be well provided with surf rentals, schools and shops. The most famous spot on Sardinia is Capo Mannu where advanced surfers can show of their moves. But beginners can look forward to the warm sun and the turquoise blue waters of the Mediterranean!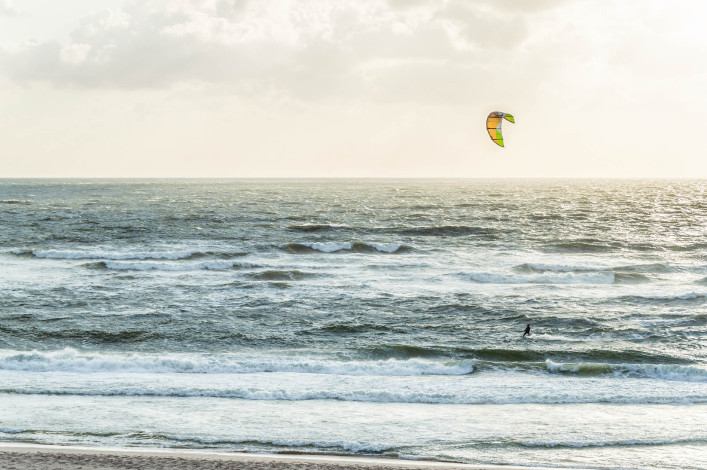 Spain
Spain definitely belongs here with the top surfing spots. There are great surfing conditions in the north especially due to the windier weather there – one of the best hotspots is Costa de Luz, for example. Here you'll come across dreamy weather that prevails all year round and makes for excellent conditions. The waves break regularly and they're normally around 1.5 metres tall – ideal for your first attempts at surfing. Things in Lanzarote are a little different – during the high season at least (October – April) you'll find somewhat taller waves. You can also enjoy great conditions and lovely sunshine all year round. But now we're getting to THE highlight of the Spanish surfing islands: Fuerteventura is often called the 'Hawaii of Europe', and besides sweeping beaches and exciting swells you'll also find fascinating biodiversity and wonderful volcanic landscapes. If you're a surfer you just have to come here at least once!
The Netherlands
Colder than Spain but still a very popular country when it comes to surfing! At Scheveningen you'll find everything you need for a perfect day on the waves – there's everything from a surfing school, plenty of beach bars and even a campsite where young people from all over the world come to pitch up their tents. Experienced surfers prefer to come in autumn or winter to take advantage of the best waves, but conditions are good all year round!
Ireland
Brrr, it's cold! Not that that matters though – for the hardened surfers who come here, the weather is the last thing they think about. In Bundoran people from all over the place come here to hunt for the best waves and that ultimate kick, and the broad beaches are also well suited for beginners too. You'll also get to see some unique landscapes and that typical Irish flair! In case things get a little too nippy for you here, you can always nip to a nearby pub – a pint or two of Guiness should do you nicely!
France
Those looking to surf in Europe are generally best heading south. One of the classic resorts is Biarritz, which regularly attracts surfers looking for those perfect waves. And believe me, you'll find them here! As well as competitions and festivals you can also visit one of the surf schools or sign up for one of the surf camps. You should come to Biarritz if you're looking for that proper surfer feeling, as watersports are in the spotlight here. There's even an enormous stretch of coast that's only open to surfers!
The small village of Hossegor is just as famous for its flair too. This is a good place for beginners to get to know the art of wave riding, but professionals will be able to put their limits here too. Hossegor has soaked up that typical lifestyle of a surfer village, and enthusiastic surfers come from all over the world to meet here. In high season during the summer you'll find real stars surfing here – in spring and autumn things are a little emptier.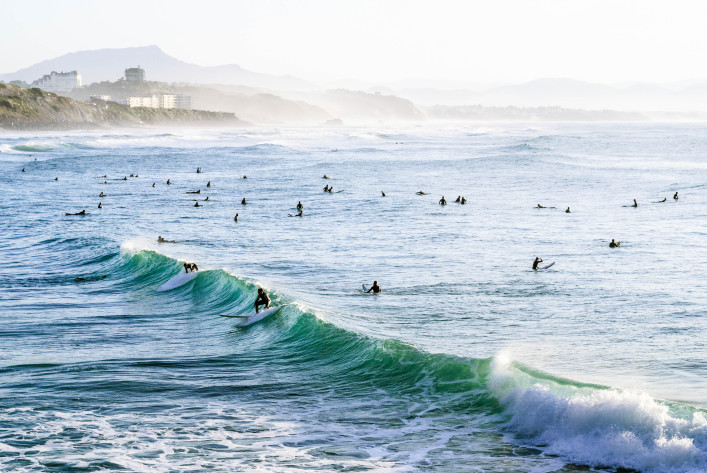 Europe – a surfer's paradise!
So – how'd you like my overview? I bet you're dying to head to the sea now or head off on a big surfing holiday! Well, at least you know now that you don't have to go far to have one! Grab your board, don your wetsuit and off you go!
If you like what you've seen on this page so far, why not check out our shiny new podcast. Holidayguru's Gurucast is our newest way to inspire and interact with you beautiful people. Here you can learn about new and exciting places, pick up some great tips on how to save on your travels and also listen to interviews with some of the world's most influential personalities. Happy listening! :)